We Offer Printing Services!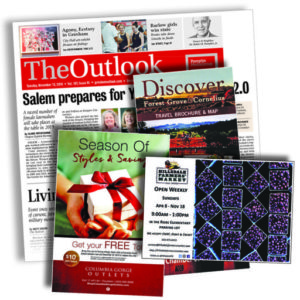 Our experienced team knows the ins and outs of printing, including selecting paper, matching a project to the right press, and understanding the printing and assembly processes.
We serve Multnomah, Clackamas and Washington county.
Flyers, Posters, Brochures, Newsletters, Tabloids, Cards or Direct Mail.
We take care of all your printing needs!
Contact Lanette Bernards
phone: +1 (971) 204-7716
Office Location: 6605 SE Lake Rd, Portland, OR 97222
Warehouse Location: 1190 NE Division St, Gresham, OR 97030
Pamplin Printing
A Division of Pamplin Media Group
© 2022 All Rights Reserved.
ACCESSIBILITY NOTICE: Our company is committed to meeting the needs of its users and is currently working to make our website more accessible to users with disabilities.
If you experience trouble when you access our site or any of its functions, please call us at 971-204-7578 or email us at LegalDepartment@pamplincorp.com for assistance and to let us know about the issue.